Fire uker i året tar vi våre studenter på Centro Sarepta med på utreiser rundt om i Spania og til naboland. Vi har allerede vært i Valencia, Barcelona og Andorra la Vella. Avslutningsturen i juni er lagt til Marokko i Nord-Afrika.
Spennende studiemulighet i Spania
Målet med våre utreiser er sammensatt. Vi ønsker at våre studenter skal få møte mennesker og livshistorier vi kan lære av. Vi vil at de skal få bli kjent med både natur, land og kultur. Vi ønsker å lete opp og besøke enkeltmennesker som trenger at deres sjel blir mettet. Og så vil vi legge til rette for at våre studenter også selv skal få dele med andre, av det som har fått bety noe i deres eget trosliv.
Forrige uke gikk turen til Madrid, Sevilla og Granada. Lørdag etter endt undervisning på Centro Sarepta satte vi oss i bilene med kurs mot Madrid. De knapt 50 milene ble gjort unna på mindre enn fem timer. Vi gjør det stort sett på enklest mulig vis når vi er på utreise; vi kjøper middag ute, og så blir det en flaske vann, to brød og to bananer til hver både til frokost og kveldsmat. Overnatting skjer enten i private leiligheter eller på enkle hostal.
Ved ankomst Madrid lørdag kveld reiste vi rett på husmøte til Arroyomolinos. Jeg skrev nylig et stykke her på hjemmesiden om et noe annerledes husmøte som gjorde noe med oss som fikk være tilstede.
«I kveld har jeg ombestemt meg» (fra husmøte)
Søndag formiddag var det oppsatt to menighetsmøter på programmet. Først møte i den lille lutherske menigheten (IELE) i Madrid kl. 09.00. Vi nådde imidlertid ikke frem da store deler av byen var sperret av grunnet to maratonløp som ble arrangert parallelt i sentrum. Etter å ha kjørt rundt i over en time og møtt sperring etter sperring, måtte vi gi opp. På telefon hadde vi løpende kontakt med andre som også var på vei til kirka, men som heller ikke kom seg frem.
Turen gikk da videre til en av de største menighetene i Madrid. Menigheten har vokst veldig de siste årene, og vi fikk være sammen med over tusen mennesker som var samlet til lovsang og en knapp times bibelforkynnelse. En av verdens aller beste fotballspillere forrige tiår, brasilianske Kaká, hadde sitt åndelige hjem her mens han spilte for Real Madrid.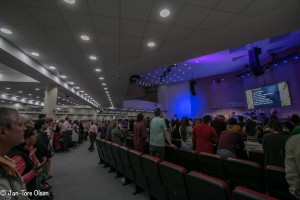 Ettermiddagen var satt av til middag og byvandring i Madrid. Etter sterkt ønske fra vår kjære Marcos fra Bolivia og til stor glede for undertegnede, ble middagen lagt til en boliviansk restaurant i den spanske hovedstaden. Peanøttsuppe, pique machu, keperi og mocochinchi var bare noen av spesialitetene som etterhvert fylte opp bordet.
Felipe Lobo stilte som guide og kjentmann denne ettermiddagen. Felipe er en utrolig flott type i slutten av førtiårene. Han har i mer enn tyve år, ulike steder i landet, vært pastor i IEE (Iglesia Evangélica Española) – en av de eldste spanske evangeliske kirkene i Spania. For få år siden ble det imidlertid åpnet opp for at homofilt praktiserende prester kunne tjenestegjøre innad i kirken. Det til tross for at det store, store flertall av medlemsmassen med henvisning til Skriftens tale, var sterkt imot. Av samvittighetsgrunner maktet ikke Felipe å fortsette innad i IEE, og sa dermed opp sin pastorstilling.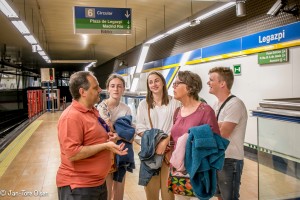 Ytre sett har nevnte vedtak fått store konsekvenser både for IEE, men også for ham personlig. Forsamlingene til IEE har mistet rundt 90 % av sine faste møtedeltakere. Rundt om i landet sitter det igjen mange, mange kirkeløse som ikke lenger vet hvor de skal samles for å høre Guds Ord. For Felipe personlig førte det ham tilbake til Madrid og inn i arbeidsledighet. Han bor nå hjemme hos sin mor. Arbeidsmarkedet i Spania er vanskelig, og hans bakgrunn gjør det på ingen måte enklere å få napp når han søker på jobb. Samtidig har han funnet et nytt åndelig hjem i den lille lutherske kirka i Madrid.
Felipe er en humørspreder av rang. Og med en klar nådegave til å forkynne Guds Ord. Han har vært innom Centro Sarepta et par uker og undervist den spansktalende klassen. Og vi har blitt svært glade i ham. I hans fotspor ble det en svært koselig og innholdsrik ettermiddag i Madrid. Her ble vi tatt med på en lang, lang vandring hvor vi fikk med oss svært mange av Madrids mange "highlights", før kursen ble satt mot hotellet og avreise til Sevilla tidlig neste morgen.
Jan-Tore Olsen